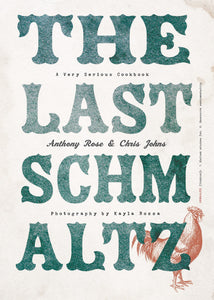 dana jordan
The Last Schmaltz
Regular price
$42.95
$0.00
Unit price
per
Please call to purchase
By: Anthony Rose and Chris Johns
SCHMALTZ (Yiddish): 1) melted chicken fat. 2) Excessive sentimentality; overly emotional behavior. From one of Toronto's most magnetic chefs and restaurateurs comes a long-awaited cookbook that has just the right amount of schmaltz.A conversation about the food and restaurant scene in Toronto isn't complete without mention of Anthony Rose. From his famous Fat Pasha Cauliflower (which may or may not have caused the Great Cauliflower Shortage of 2016) and Rose and Sons Patty Melt to his Pork Belly Fried Rice and Nutella Babka Bread Pudding, Anthony's dishes have consistently made waves in the culinary community. Now, in his first cookbook, Anthony has teamed up with internationally-renowned food and travel writer Chris Johns to share his most famous recipes and stories.

Be amazed by the reactions Anthony received when he ingeniously invented a dish called the "All-Day Breakfast." Thrill at the wonder Anthony felt when, as a young Jewish kid, he tasted the illicit lusciousness of bacon for the first time. Or discover the secret ingredient to the perfect shore lunch on a camping trip (hint: it's foie gras).

Often funny, sometimes ridiculous, but always delicious, The Last Schmaltz is a peek into the mind of a much-loved chef at the top of his culinary game.
---
Share this Product
---